Who is the Strongest Avenger of all? – Marvel Cinematic Universe
The truth is, I am still confused and have no idea on who is the strongest avenger. After every movie release in Marvel Cinematic Universe, the list of strongest avengers is changing. The story writers and comic book writers hold the audience confused and open to judgments and conclusions.
Well let's think logically and take decisions, the most powerful Avengers with crazy superpowers and literally, a god is Thor, he is the god of thunder. He has the power of superhuman strength, speed, durability, and longevity. He has lived from more than 3000 years and its a fact. Thor's death is no way near and he cannot die just like that.
Thor has the power to manipulate weather via his old hammer Mjolnir. He also exercises powers like dimensional transportation, electric manipulation and not forgetting flight.
I mean, these powers are just enough to defeat the other Avengers including Iron Man. But then comes this huge beast named Hulk, the green Avenger. Bruce Banner turns into Hulk when he is angry. And this Anger is the source of Hulk's power.
Hulk is Invulnerability and same as Thor he exercises superhuman strength and durability, but unlike Thor, Hulk has stamina. The required Stamina to fight a battle until the enemy is tired. Every other superhero knows his/her strength and the amount of power they hold. but unfortunately, Hulk has no idea on how powerful he is. The angrier Hulk gets the more powerful he becomes.
Remember in Avengers: Age of Ultron, Scarlet Witch using magic, showed something to all Avengers including Hulk and he got angry, like really angry. Iron Man came to the rescue and used Hulk Buster to fight Hulk and calm him down. That day Hulk was out of control and so was his anger, despite that Hulk Buster defeated Hulk.
Coming to Thor: Ragnarok, it was in the battle Thor vs Hulk, the most anticipated and nail-biting one. Hulk smashed Thor at his best. But the point is, Thor, lost his Hammer – Mjolnir and was not powerful enough. This hammer was the same hammer which Thor used in Avengers one and smashed Hulk.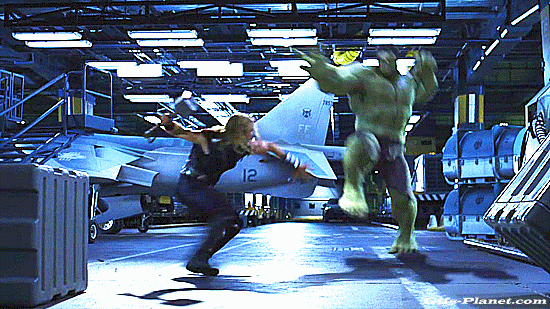 If you have followed me till here, you will understand how confusing it is to rank the strongest Avenger. But I have come to a conclusion and that is, Thanos, defeated Hulk in Avengers: Infinity War in the beginning. Even Thor lost to Thanos at the beginning of the movie, got his brother killed. But moving further, Thor ventures to Nidavellir with Rocket Racoon and Groot in the process and making a new Hammer – Stormbreaker.
Now Stormbreaker is a very powerful weapon that helped Thor to defeat Thanos (almost). Thor was able to impale Thanos with his new hammer after Thanos had complete Infinity Gauntlet with all Infinity Stones, but sadly Thor did not aim for the head which allowed the mad Titan to snap his fingers. Thor is not that smart but with Stormbreaker, is as strong as all the infinity stones together, leaving Hulk Far behind.
So finally if asked, who is the strongest Avengers, I say after Avengers: Infinity War, Thor is the strongest Avenger with his new hammer and without the hammer Hulk is the strongest one ready to smash the god of thunder.
Check out our other articles